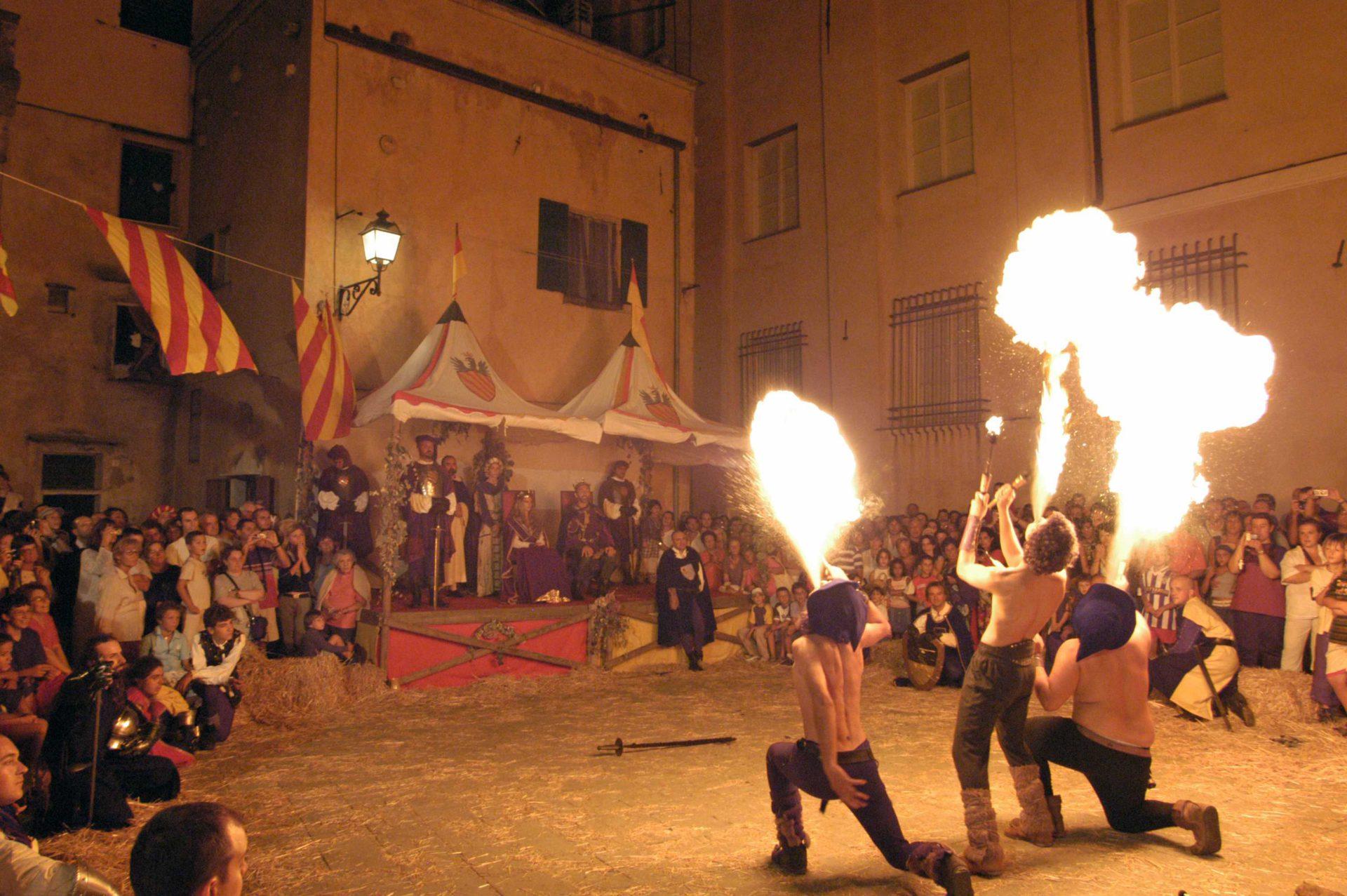 Back to the Middle Ages
Viaggio nel medioevo
Artisti di strada, attori, mangiafuoco, giocolieri, musici, danzatori, sbandieratori, ammaestratori di rapaci, cavalieri, arcieri, spadaccini, osti e locandieri provenienti da diverse località d'Europa si incontrano a Viaggio nel Medioevo.
Un evento medievale internazionale, patrocinato dalla Confederation Europeenne des Fetes et Manifestations Historiques, dalla Federazione Italiana Giochi Storici, dalla Consulta Ligure per la Difesa delle Arti e delle Tradizioni.

Ogni angolo del Borgo è animato e colorato da bandiere, festoni e insegne medievali.
Combattimenti tra mercenari irruenti o duelli cortesi dei cavalieri di ventura. Eventi inaspettati e inattesi spettacoli animano il Borgo in ogni suo vicolo.

Attraversando le porte di Finalborgo si ha la sensazione di varcare le porte del tempo ed essere immersi in un sogno medievale. In tutto il paese rifioriscono antiche botteghe dove i commercianti e gli artigiani del paese, cogliendo lo spirito della festa medievale, accettano il FINARINO, la moneta del Marchesato del Finale.

Centinaia di personaggi si avvicendano per le vie di Finalborgo popolate di avventori in costume, con strade e piazze animate da dame, cavalieri e popolani, concerti di musica celtica-medievale, tornei a cavallo, torture e storia dal vivo in modo da riprodurre il XV secolo, epoca nel quale il marchesato del Finale, governato dai Del Carretto, visse il suo periodo di maggior fulgore.
Non mancheranno gli antichi mestieri, i giochi medievali e l'impeccabile e attesissima cena medievale alla "Locanda dei Cavalieri" nella splendida cornice dei Chiostri di Santa Caterina.
Choose your holiday
We have collected the experiences that encapsulate the essence of a holiday in Finale Ligure.