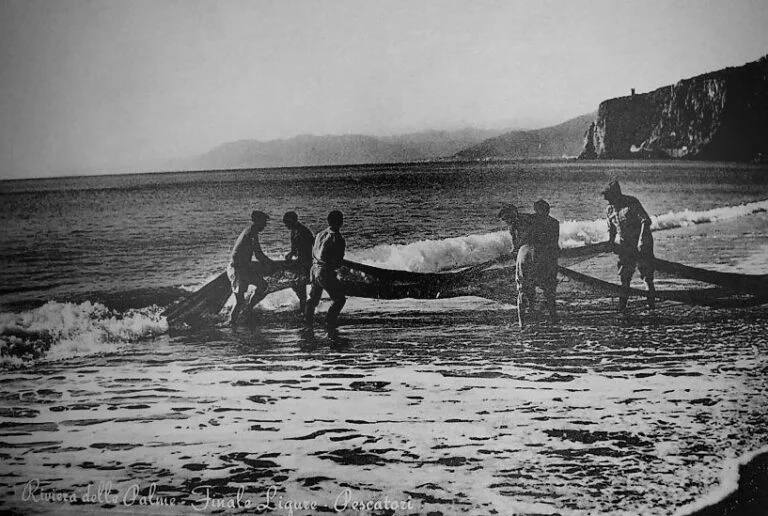 ANCIENT FISHING TECHNIQUES
Happens in Finalmarina
A fishing net is on the shore, ready to be used, while a small boat (known as "gozzo") sets out with one of the lines to create a semicircular boundary and limit the fishing area. The two flaps move closer and closer until they trap the fish.
This is Seine fishing (pesca con la sciabica). The Sciabica, from the Arabic "shabaka", is the trawl net widely used in the past to catch a few fish in the shallow waters of the Ligurian Sea. It is one of Liguria's oldest and most deeply rooted traditions. Today prohibited by European regulations, it can sometimes be revived by applying permitted derogations.
A couple times a year, on the Spiaggia dei Neri or the Spiaggia dei Bianchi the Compagnia di San Pietro organises two seine net demonstrations for educational and beneficial purposes.
The public is delighted with the opportunity to buy the products of this traditional fishing technique directly on the beach.
Fishermen in Finale Ligure are of all age categories.
The "great old fishermen" no longer go out to sea, but they keep the sea in their eyes full of light and in their hands covered in scars. They stay on the beach or promenade to repair nets, sometimes ripped off by larger fishes: a necessity, because nets are precious (once more than nowadays).
Fisherman's patience at sea means their ability to untangle knots and expertly repair tears on land, ensuring their net is efficient once again. Surgical movements are dictated by the eye and time. An ancient tradition that, when repeated on the Finale Ligure seafront, becomes a tourist attraction. .
COMPAGNIA DI SAN PIETRO FINALMARINA ONLUS
Spiaggia dei Neri, Lungomare Migliorini, Finalmarina
For further information about Seine fishing dates and net repair demonstrations:
Francesco Oddone: +39 3475351224, +39 3389351145
Facebook: Compagnia di San Pietro