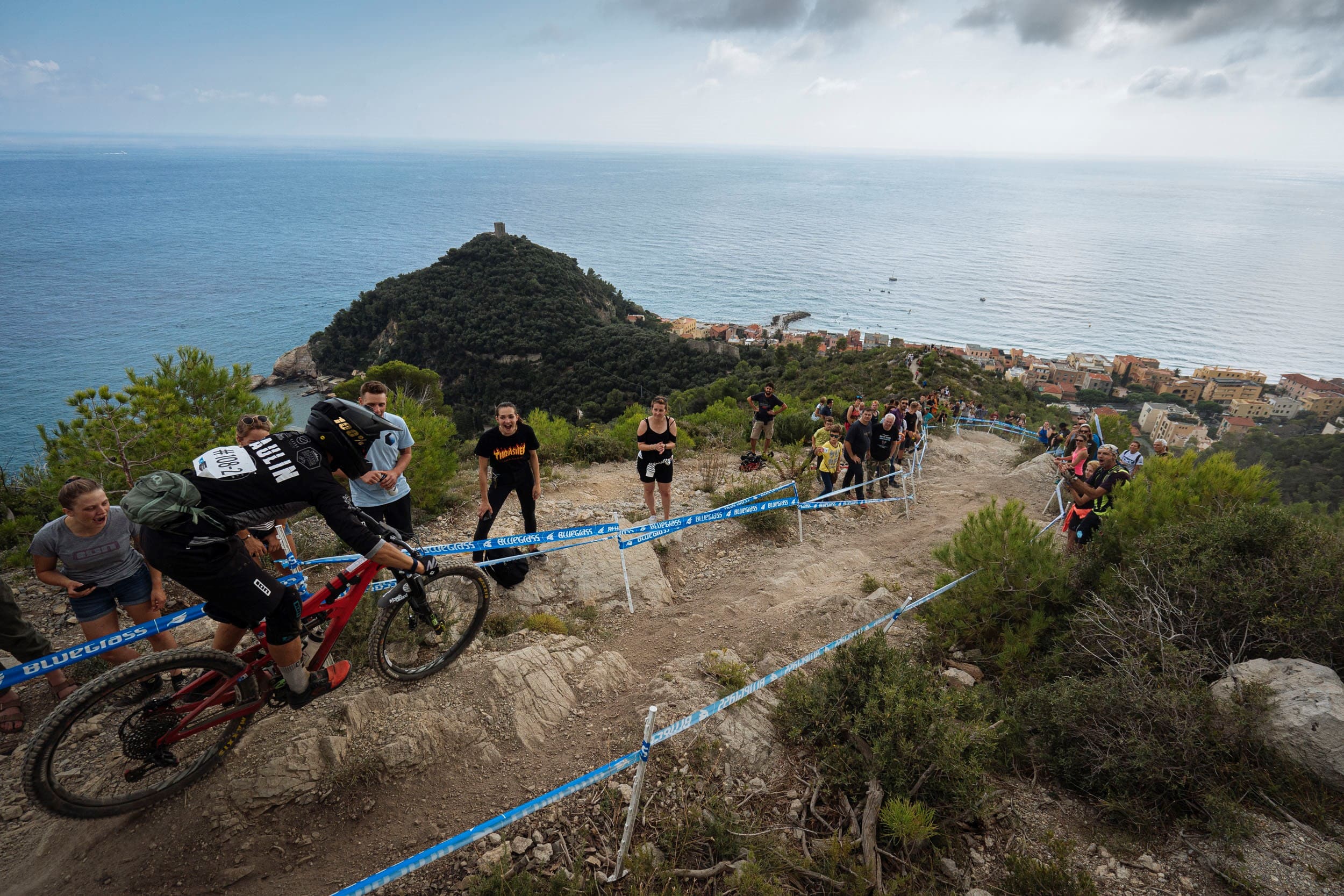 UCI MARATHON WORLD CUP
Finale Ligure, amata per i suoi sentieri mountain bike e per i suoi panorami mozzafiato, è diventata famosa nel mondo grazie a gli eventi sportivi: le prime gare di cross country negli anni '90, la 24 h di Finale sull'Altopiano delle Manie per ben 21 anni e poi, a fine anni 2000, l'arrivo dell'enduro in mountain bike, una nuova disciplina che ha trovato in questo territorio fatto di valli e altipiani il luogo perfetto dove praticarla.
La disciplina, oltre a essere la più giovane tra le specialità del ciclismo fuoristrada, è anche tra le più spettacolari e presenta un format di gara molto simile a quello dei rally, con l'alternarsi di "trasferimenti" (tratti di percorso non cronometrati, ma che vanno percorsi entro un tempo limite) e "prove speciali" (tratti di percorso cronometrati e che sono prevalentemente discesistici).
FinalEnduro dal 2008 è la manifestazione sportiva che ha visto l'organizzazione delle tappe del circuito nazionale Superenduro e, dal 2013 al 2022, dell' Enduro World Series, circuito internazionale che ha portato a Finale Ligure per 10 anni consecutivi i migliori rider al mondo e che l'ha consacrata definitivamente come la patria della disciplina. Ogni edizione della gara ha presentato un percorso differente, mettendo in evidenza la quantità e la grande varietà di sentieri che il Finalese è in grado di offrire. Nel 2019 e 2022 si è tenuto, sempre a Finale, il "Trofeo delle Nazioni", unica ed emozionate gara a squadre in ambito mountain bike a cui hanno partecipato team di 35 diverse nazioni.
Nel 2023 il livello degli eventi sportivi si alza ulteriormente con l'arrivo a Finale della UCI Marathon World Cup: prima gara di Coppa del Mondo di Cross Country Marathon che si svolge in Italia e la seconda al mondo, questa gara con un percorso di 100 km e 3000 mt di dislivello con partenza e arrivo dalla meravigliosa Finalborgo porterà a Finale Ligure i migliori atleti della disciplina e le squadre ufficiali UCI, ma anche tanti amatori che si metteranno alla prova sullo stesso percorso degli atleti di Coppa del Mondo.
Il percorso di gara si caratterizza per una una grande varietà di single tracks impegnativi, lunghi, tecnici e scorrevoli che si susseguono e coprono circa 35 km del percorso, creando un meraviglioso ritmo di gara, con tanto flow e veloci sterrati per riprendere fiato e coprire un po' di distanza. Siti storici, splendide viste sul mare e scorci inusuali, foreste di faggi, single tracks rocciosi, antichi borghi e molto altro ancora rendono questo percorso epico, impegnativo ed emozionante, un vero e proprio must per gli amanti delle lunghe pedalate.
Per saperne di più https://finaleoutdoor.com
Choose your holiday
We have collected the experiences that encapsulate the essence of a holiday in Finale Ligure.